Hello,
In netgen6.2.23XX and netgen6.2.22XX I'm trying to mesh occ faces after defining the edges at the boundary without success for simple geometries. In a nutshell, I have the follow sequence of calls to the function of the netgen library.
netgen::mesh ngMesh;
occgeom.shape = TheFace;
occgeom.BuildFMap();

For a series of points located at the border of the face.
ngMesh.AddPoint( netgen::Point<3> (n->X(), n->Y(), n->Z()), 1, netgen::EDGEPOINT  )
ngMesh.AddPoint( netgen::Point<3> (n->X(), n->Y(), n->Z()), 1, netgen::FIXEDPOINT  ) // for vertex

For the connectivity of the points define the segments and call
ngMesh.AddSegment (seg);

Then call
ngMesh.CalcSurfacesOfNode();

and then
netgen::mparam.perfstepsstart = MESHCONST_MESHSURFACE;
netgen::mparam.perfstepsend = MESHCONST_MESHSURFACE;
occgeom.GenerateMesh( meshPtr, netgen::mparam );

For an square face, the generated mesh is visually incorrect, with some triangular elements created out of the boundary of the geometry as depicted in the shared image.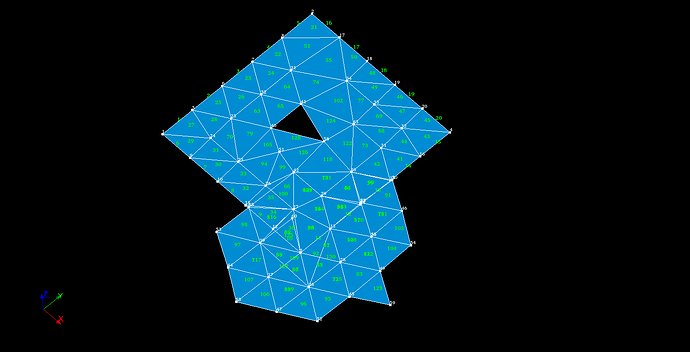 Is there any important step/care that must be taken in relation to the added segments for this procedure to work? Studying the FindEdges routine for the newer versions (6.22 and 6.23) I realize that there were some updates in relation to version 6.21, but I still can not figure out how to make this procedure to work again.
I appreciate your help!
Cesar