Hello,
I'm currently trying to create a geometry resembling a sine wave. So far I have an example where the geometry satisfies more or less my expectations, but the amplitude can not be specified precisely. In this approach, I'm using 5 points to create a single sine wave. The corresponding code can be found at the very bottom of this post.
I tried to multiply the amplitude to "stretch" the sine wave, but the results are confusing me, since I can't figure out the pattern it's following. Below the output of the program with the values 1, 2 and 4 for the amplitude. (The height of the geometry at the right-hand border is 2.)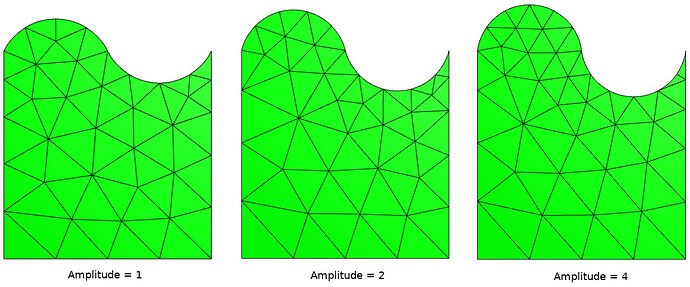 Obviously, there are downsides to my current approach. For example the sine wave for amplitude = 4 isn't that well-formed…
I suppose, my problem can be explained through this statement from the documentation:
[quote]
The curve and its tangential direction coincides with the control polygon at the start and the end-point.[/quote]
Thus, my question: how can I define a sine wave geometry, where I can define exactly the amplitude?
Edit: I'm also thankful for any further explications on how the spline geometries are working. Like how the curve is calculated between three points.
---
Code for the generation of the examples in this post:
from netgen import geom2d
from ngsolve import *
from ngsolve.webgui import Draw
from math import pi, sin, cos

# small function to create a sinusidial form
pts = []
amplitude = 1
wavelength = 2 # the length to perform a complete sinus cycle

# create points for a single sinus iteration
pts.append([0, 0])
pts.append([wavelength*0.25, amplitude])
pts.append([wavelength*0.5, 0])
pts.append([wavelength*0.75, -1*amplitude])
pts.append([wavelength, 0])

# auxilliary points
pts.append([wavelength, -2])
pts.append([0, -2])

# init geometry object
geo = geom2d.SplineGeometry()
geoPtsIdxs = []
for p in pts:
    geoPtsIdxs.append(geo.AddPoint(*p))

# define sinusiodal geometry
geo.Append(["spline3", geoPtsIdxs[0], geoPtsIdxs[1], geoPtsIdxs[2]], leftdomain=0, rightdomain=1, bc='intern')
geo.Append(["spline3", geoPtsIdxs[2], geoPtsIdxs[3], geoPtsIdxs[4]], leftdomain=0, rightdomain=1, bc='intern')
# close the geometry
geo.Append(["line", geoPtsIdxs[4], geoPtsIdxs[5]], leftdomain=0, rightdomain=1, bc='intern')
geo.Append(["line", geoPtsIdxs[5], geoPtsIdxs[6]], leftdomain=0, rightdomain=1, bc='intern')
geo.Append(["line", geoPtsIdxs[6], geoPtsIdxs[0]], leftdomain=0, rightdomain=1, bc='intern')

geo.SetMaterial(1, "testregion1")
ngmesh=geo.GenerateMesh(maxh=0.5) #0.05
mesh = Mesh(ngmesh)

mesh.Curve(3)

Draw(mesh)